Excellent Year Round Fishing off World Famous Hatteras Island on the Outer Banks of North Carolina
Our fishing seasons in Hatteras are very dynamic and seem to change a little year to year. Of course weather is the big factor that controls the day-to-day changes. Warm fall weather will delay the Tuna fishing into November/December just like a cold spring will keep the Tuna fishing good until June. We have some of the most unique climate conditions in the world that make our fishing world-class year round. The warm blue water of the Gulf Stream is only 20 miles offshore even in the middle of the winter where it collides with the cold Labrador current coming from the North. These conditions produce a mixture of sea life that is unbelievable at times. You will see bait, birds, turtles, whales, sharks and even big game fish will be close by. This creates a Thanksgiving feast for the large pelagic predators (tuna, marlin, wahoo, and dolphin) that we are looking for. It is like being in a giant aquarium some days seeing all this marine life.
Blue Marlin―King of the Ocean
May – August―Excellent
September, October and April―Fair
We usually catch 15 – 20 per year so it is truly a catch of a lifetime. Average weight is around 300 pounds but it's not unusual to see a 400 to 500 pounder. Catching a Blue Marlin is always a "catch and release" unless tournament fishing.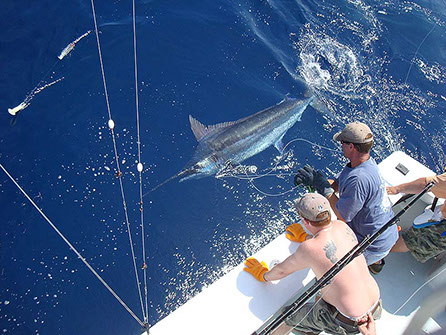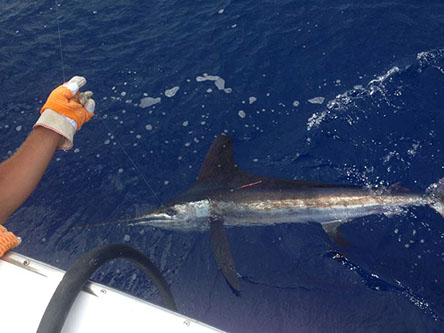 White Marlin
June and July―Excellent
May, August and September―Good
April and October―Fair
It is the smaller version to the Blue Marlin but they are a blast to catch. When they come after both teasers with their peck fins lit up bright blue excitement is a guarantee. They are a challenge to hook but usually jump all over the ocean when they are hooked.
Sailfish
June, July, August, September―Excellent
April, May, October―Fair
Another great billfish that usually averages around 40 pounds but are also a challenge to hook. They have a large sail on their back so they are super impressive when jumping. It is not uncommon to get 3 or 4 in the spread at one time so a fire drill is usually normal procedure. Again, all of our billfish are normally released.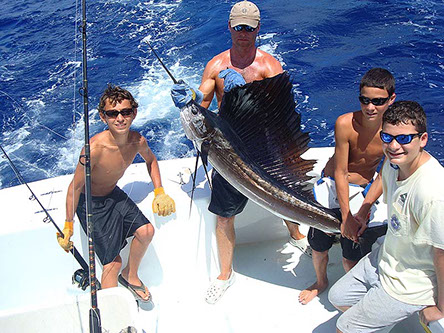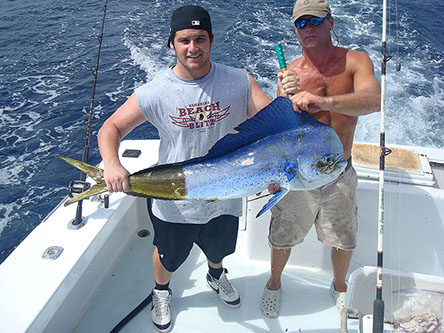 Dolphin (Mahi Mahi)
May – September―Excellent
April, November―Fair
Dolphin is definitely the #1 caught fish in Hatteras. We catch them from early April through December all shapes and sizes. The good gaffer (8 – 40 pounds) starts in May and usually goes to the first of July. We catch the big ones all season but that would be the peak. In the summer months we limit out (10/person), on the bailers (3 to 6 pounds) on most days. They are beautiful fish that jump and fight really hard for their size not to mention they are great table fare. If you want to make your kids smile then take them dolphin fishing next summer.
Yellowfin Tuna and Bluefin Tuna
October – December, March – May―Excellent
June – Sept―Fair
Everyone wants to catch TUNA! They are beautiful fish, fight hard and are so delicious! Normally, the better fishing is during the cooler months but they are here year-round. Don't be surprised to have a nice catch in July. We use many different techniques and lures so it's not unusual to try trolling, jigging, chunking―even spreader bars and kite fishing to catch these elusive gamefish.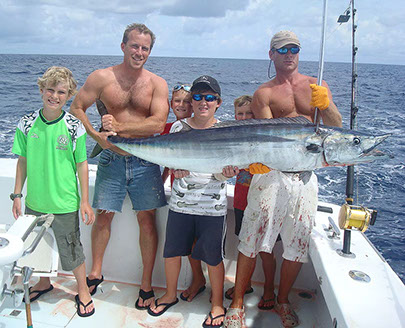 Wahoo
May, June, August and September―Excellent
Remainder of the year―Good
Catching a Wahoo every single month of the year is definitely doable if you fish for them. I love Wahoo Fishing! We use two methods to catch them: fast trolling (14 knots) and regular trolling (7 knots). Either way the bite is usually fast and furious. You really have to reel hard to stay up with them. They are photo perfect right out of the water. Be careful to avoid their razor sharp teeth.
Big Bluefin Tuna
December – March―Excellent
April, November―Good
These are the Wicked Tuna! They average 300 pounds in the winter months and they literally wear you out. We normally use heavy tackle 80s or 130s but some anglers like to try them on spinning or jigging rods with 50 – 80 pound test braided line. I like the light tackle if my anglers want to catch them that way. Most of these fish are truly trophy fish.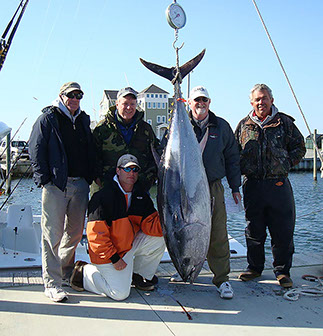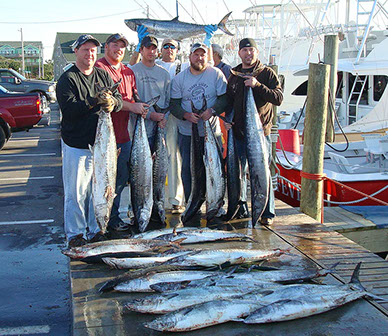 King Mackerel
October – December―Excellent
April, May, September―Good
If you have never been live baiting for King Mackerel then you are missing out on some world-class exciting fishing. Watching a big "Smoker" King (40 pounds) jump out of the water about 30 feet from the boat with a menhaden in his mouth will get your adrenalin pumping. We catch our limit (3/person) most days in the fall. You will usually encounter some other trophy fish while live baiting such as Blue Marlin, White Marlin (138 and 123 pound caught this Fall), citation Blackfin, Yellowfin, and Wahoo. It is one of my favorite fishing trips.
Amberjack, Barracuda
April – October―Excellent
November – March – Good
These species are usually found around structures within a wreck or on some rocky bottom holding bait. Jacks are hard fighters. Barracudas are more like Mackerel with fast runs. They both are usually caught with jigging tackle using some type of metal jig. Both are pretty white meat and are surprisingly good to eat.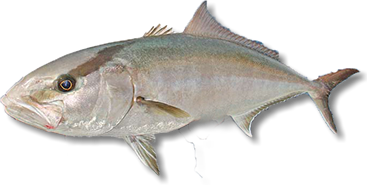 Skipjack Tuna, False Albacore (Little Tuna) and Bonita
April – December―Excellent
We catch these tuna species almost on a daily basis. They are good fighters and some are okay as table fare. Most of the time we cut them up as bait to catch dolphin or bottom fish.
Cobia
May, June―Excellent
July – September―Fair
We normally do not target Cobia. When running back inshore in the afternoon in May or June, cobia are often found on top so we often sight cast to them to try our luck. It's always a ton of fun because they average over 30 pounds. They are also very good to eat. I'm always eager to run all day Cobia trips if you are interested.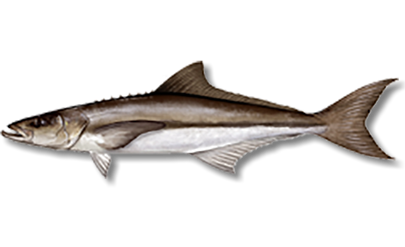 Bottomfish
Year-round―Excellent
We have some excellent bottom fishing off Hatteras but there are seasons and limits on all of them. Check with me to see what's open and how many you can catch. I have caught Summer Grouper up to 65 pounds, Golden Tile up to 67 pounds, Blueline Tilefish up to 17 pounds and plenty of Black Sea Bass and Gray Triggerfish that were citations. We also catch Vermillion Snapper (B-liners), Silver Snappers (Porgy) and many other bottom fish.
Captain Rom Whitaker PO Box 150 Hatteras, North Carolina 27943 Docked at Hatteras Harbor Phone 252-986-1031 & 252-216-6106